haaa...pika da dpt keja bru!! nyaaa~ best ny..hehehe
at 1st nervous sgt2 sbb pertama kali oo di interview!! hahaha.
(bengong ny pika ni xpna d interview.LOL)
hee.. doktor tnye ni. tnye tu. pika pun dgn bangge nye jawap la y ptt.
heee..then ttbe doktor tu kate ' k esok da bley start keje. kol 10am-5pm k?'
n i was like what? n wow! hahahaha. happy uuuu...
so yeah. da keja selama 2 hari (ceh baru 2 hari.LOL)
heee...tp kn even da 2 hari pun pnt ooo... n seriously
penuh dgn pegembaraan. err btl ke x ejaan 2. haii.. ni la klu bm lemah ni.
hmmm full of adventure. haaa...hehehehe
hari 1st dpt la nmpk doktor bedah ni tgn ad sorg makcik ni.
dia nk kua kn tiub perancang dri tgn dia. errr. scary jgk la.
doktor cucuk2 korek2. pika just tgk dgn mka y sgt2 la hodoh ny.
mka hodoh + mka tekejut =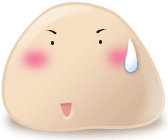 LOL. ok xda la mcm ni. heee
hmm.. tp ok jek. hehehe alhamdulillah pika xtkt darah.
actually i like this kind of things.
hehehe.
ok 2 hari 1st.
hari kedua haaaa terer la doktor tu ley cuci mate org tu pki cotton bud je....
haaaa....scary kn. hahahaha sentuh mata org tu gosok2 mata org tu gna cotton bud.
heee... xpe2 jgn tkt mata org tu ok ja. hahaha.
AND! ni doktor ad cuci luka nenek cina ni. umo dia da 90THN!!!!!
gle tue. hahaha. k k.
1- luka dia seriously busuk sgt2. hmm xelok lak ckp gtu no2. xbusuk tp bau hanyir. ergh.
2- luka dia dlm oooo...doktor men cuci gosok2 mcm benda tu mainan ja. eee tkt ny.
tp terer la doktor tu. huhuuuhu.. dia gosok2 dia bersih kn luka 2.
haaa tp mmg penuh cabaran la keja 2. hehehe.
hope pika dpt keja lg lama n dpt cpt tngkp ap y doktor ckp n ap y doktor suruh.
i need to be more focus at 1 thang!! hahaha.
haaa...so thts it for today.
>_<!

love by pika~